June 2019 Business of the Month: Eatery 66
In an ongoing effort to promote and get to know our local businesses, the Ridgway Area Chamber of Commerce is proud to introduce our June 2019 RACC Business of the Month:
Eatery 66
The Graves Family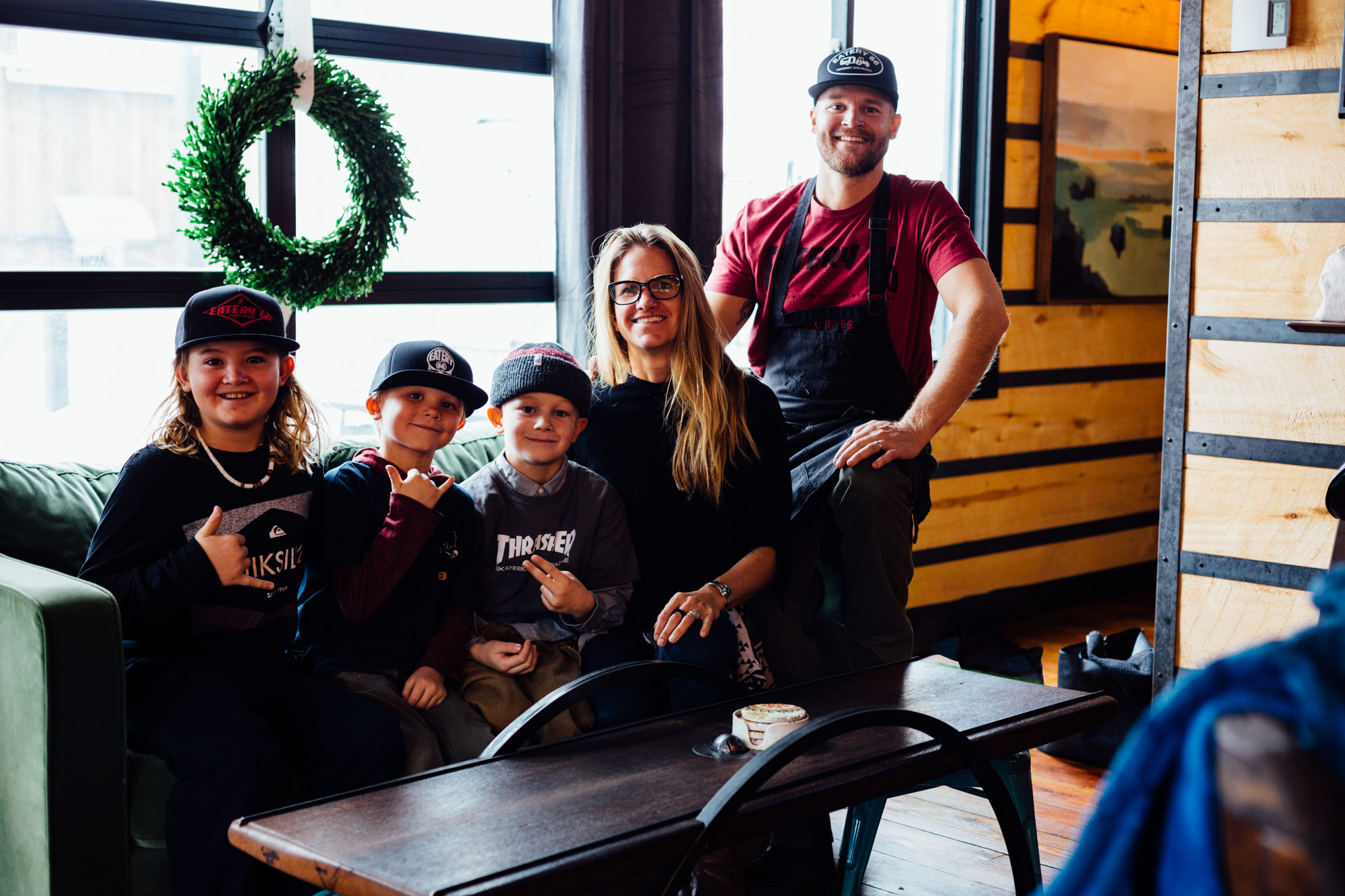 Who are the owners of Eatery 66?
Eatery 66 owners Spencer and Katie Graves are originally from the East Coast. They have traveled and lived in many places across the country such as Charleston, S.C., San Diego, Calif. and Telluride.  They also lived for eight years in Santa Teresa, Costa Rica where they enjoyed years of surfing, cooking, yoga and raising three amazing boys!
Who else is an important part of Eatery 66?
Sous Chef Kevin Biehn has been with the business since the beginning it started in the 1966 Airstream five years ago.  He is originally from Philadelphia, Penn., but has been in the area for over eight years now. Kevin is like family to the Graves – a true mentor to their three sons in life and in play! Kevin is an amazing skateboarder and snowboarder, and when they aren't all working at Eatery 66, they are all playing together in the mountains, skatepark or water!
What inspired you to start this business?
Moving to amazing Ridgway and getting to know the area inspired a "Farm to Trailer" style food truck that could highlight the amazing local farms and farmers of the area. We wanted to create a business that is cohesive with our lifestyles and our hearts: one that is fun, inspiring, creative, organic, evolving, simple, and of course, creates food that is delicious to eat!
What is your business mission?
Be good. Live simple. Eat well. At Eatery 66. we serve up food with a home-style flavor that is an eclectic mix of old-school savor meets modern world taste buds. Our food speaks to our lifestyle in which we desire healthy, quality food that tastes delicious and is simple, casual and fun to eat. We are proud to offer locally sourced products and artisanal crafted food and drinks.We love to buy local not only because it supports our farmers and community, but by sourcing our food locally and seasonally, we are creating better tasting and fresher meals where the high-quality ingredients speak for themselves. When we sit down and share food, we are building stronger families, stronger friendships and stronger communities where food is the heart of life and living.
What are some interesting facts about you and your business?
We are a family that lives by the quote "mountains to ocean": we love the glorious and breathtaking wonders of the mountains and the rolling, soothing comforts of the sea. We love to travel and explore, and we all love food! Our three sons are all amazing skateboarders and snowboarders and spend a lot of their time in constant motion, keeping us moving and shaking our path! We feel our restaurant is an extension of our home and love seeing all our locals as well as meeting some amazing people who stop in for a visit.
What do you like most about Ridgway?
There isn't much to not like about Ridgway! We love the support we receive from the town and community to host our visions of our two businesses. We love the beautiful backdrop that serves as the most magical outdoor playground around. The endless amount of activities to do at your fingertips is a dream! And most of all we love the people! The eclectic mix of humans is amazing! Artists, teachers, developers, creatives, growers, farmers, ranchers, women, men, all ages! It is a true melting pot of beautiful souls!
What is your biggest challenge and your biggest rewards?
Our biggest challenge is balancing work and family – both we love endlessly, but need to make sure we are in balance, giving ourselves to our family and to our work proportionally. This is ultimately our biggest reward as well, as we feel we can work hard and then play hard – making special time and memories with our children as they grow! Our boys (and dogs:) are a huge part of who we are as business owners, and you will often see our kids doing dishes or clearing plates and then running out to skate! We are in this as a family and proud to be a family owned, operated and serving business!
Do you have any new offerings for the summer 2019 season?
Please take a look at our NEW and UPDATED website! We are excited to launch it this week!  
We will be offering live music and events throughout the summer, which you can find on our website. 
We also would like to encourage people to follow our social media pages (Instagram and Facebook) as we keep them up to date with specials, hours, and on-going events happening at Eatery 66 all year long!  
Also, in exciting news, our 1966 Airstream is getting a facelift and will be ready for service in June. Our updates will have the Airstream running as a full bar, smoothie bar and dessert bar all summer long! Stay in the loop via Instagram and Facebook for the grand re-opening of our sweet trailer!!
RACC is proud to showcase this business. Eatery 66 may be reached at 970-626-5901 and . Also go online to: http://www.eatery66.com/
Photos for this article courtesy of Emily Sellers – Made By Latitude