Plan Your Trip To Ridgway
Drive into town past some of the most incredible scenery in the world, whether you take a route through the nearby red rock deserts or the peaks of the Rocky Mountains. If you prefer quicker access, Montrose Regional Airport is about 30 minutes away from Ridgway, with several flights arriving and departing each day. Plus, for railroad fans, the historic Durango & Silverton Narrow Gauge Railroad Train and Amtrak make stops in Silverton and Grand Junction, both about an hour and a half away.
We highly recommend you flip through our Visitor's Guide at the link below before you arrive in Ridgway to check out all that our area has to offer. You'll see that you can enjoy a plethora of outdoor recreation and your usual vacation activities, as well as explore and discover new interests and experiences.
Southwest Colorado has a dry climate. Drink plenty of fluids to maintain hydration. More than Ridgway's spectacular scenic beauty will take your breath away… Ridgway's elevation is 6,985 feet.
Give your body time to adjust.
If possible, stay down in the valley, around town, on your first day.
Avoid strenuous exercise the first day of your vacation.
Drink plenty of water!
Limit alcohol, caffeine and tobacco use.
Work your way up to higher altitudes.
Pursue your sightseeing and adventure plans by gradually going up to a little higher altitude each day.
There's much to explore at lower elevations, too.
Be prepared for afternoon showers in the high country.
Wide temperature swings and rapidly changing weather are common from lower to higher elevations.
Learn to recognize the symptoms of hypothermia.
Adequate clothing is a must.
Wear layers and a hat.
Remember your sunscreen (you're closer to the sun in thinner air that's easier for UV rays to penetrate).
---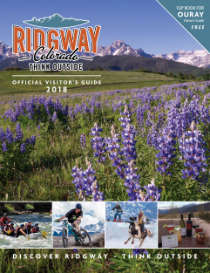 Get The Official Guide To Ridgway Colorado
Find out why Ridgway is the perfect town where you can enjoy and explore a broad spectrum of outdoor activities and year-round cultural events. This 68-page, full-color guide gives you all the details you need to know to create the vacation of your dreams or plan your move to the home you always wanted. From the event calendar and maps to the business and lodging listings, this handy guide is your bible for your stay here in Ridgway.